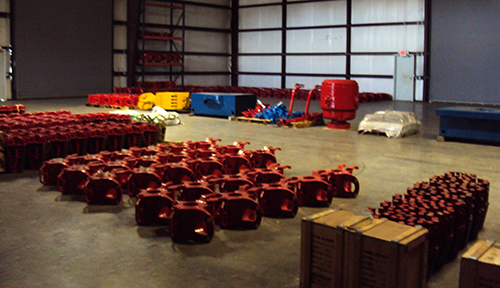 RJ Sandridge is the co-owner and operator of SouthWest Pipe, LLC located just south of Lafayette, LA. He has over 25 years of procurement experience in the oil & gas industry. SouthWest Pipe LLC sells and purchases equipment for the oilfield industry. RJ comes from a family that is deeply rooted in the oilfield industry. Having hands on experience with the products he sells, customers are safe to put their trust in him to provide them with quality products at an honest price. We strive to provide southern hospitality as a part of our customer service, as only a native Louisianan can. SouthWest Pipe has a large inventory for all your oilfield needs. SouthWest Pipe LLC inventory is well maintained in the cleanest pipe yard in the Lafayette area.
Contact SouthWest Pipe and stop by and see our inventory.
Extensive Drill Pipe In-Stock ...
The SouthWest Pipe LLC inventory includes:
SouthWest Pipe LLC has Used Tools ready for REMAN (remanufacturing) ...
Find a full selection of Hooks and Blocks, Swivels, Rotary Tables, Mud Pumps, B.O.P. at SouthWest Pipe LLC located in Broussard, Louisiana. 

New Rotary Tools
Drill Pipe Elevators, Tubing Elevators, Slip Type Elevators, Casing Elevators, Drill Pipe Slips, Drill Collar Slips, Casing Slips, Safety Clamps, Elevator Bails, Lower Kelly Valves, Upper Kelly Valves, Manual Rotary Tongs, Inside B.O.P., Lower Kelly Valves, Kelly Drive Bushings and etc.